Excursions
Programm available in pdf format.
Normandy is a region rich in history and heritage. Wednesday afternoon will be devoted to the discovery of these. We offer participants the opportunity to participate to one of the following two excursions. The price of this excursion is 45 euros per person. We will distribute sandwiches to participants at noon, which they can eat before the journey. The dinner is not included in the price (in the 2nd excursion, free time will be planed at the end of the day on the Mount, during which participants will be able to have dinner).
Please note : the deadline to register for the excursion is April, 26, and the number of places is limited! It is recommended to register quickly.
Excursion 1: D-Day Landing beaches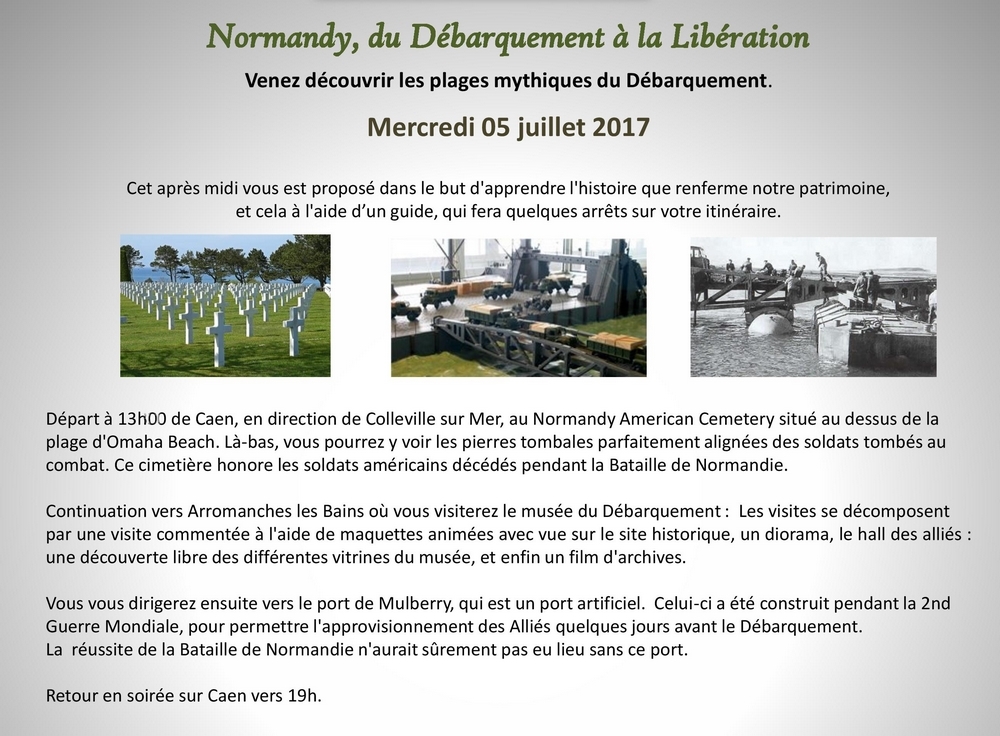 "Normandy", from Landing to Liberation
Come and discover the mythical landing beaches
This afternoon is proposed in order to learn the history of our heritage, and this with the help of a guide, who will make some stops on your itinerary.
Departure at 13:00 from Caen, direction Colleville sur Mer, at the Normandy American Cemetery located above Omaha beach. There you can see the perfectly aligned tombstones of the killed in action soldiers. This cemetery honors the American soldiers who died during the Battle of Normandy.
Continuing to Arromanches les Bains where you will visit the D-Day Museum: Visits separate in, a guided tour with animated models with a view of the historic site, a diorama, the hall of the allies: a free discovery of the different showcases of the museum, and finally an archival film.
You will then join the port of Mulberry, which is an artificial harbor. This one was built during the 2nd World War, to allow the supply of the Allies a few days before the D-Day. The success of the Battle of Normandy would certainly not have been possible without this port.
Return in the evening to Caen around 19:00.
Excursion 2: Mont-Saint-Michel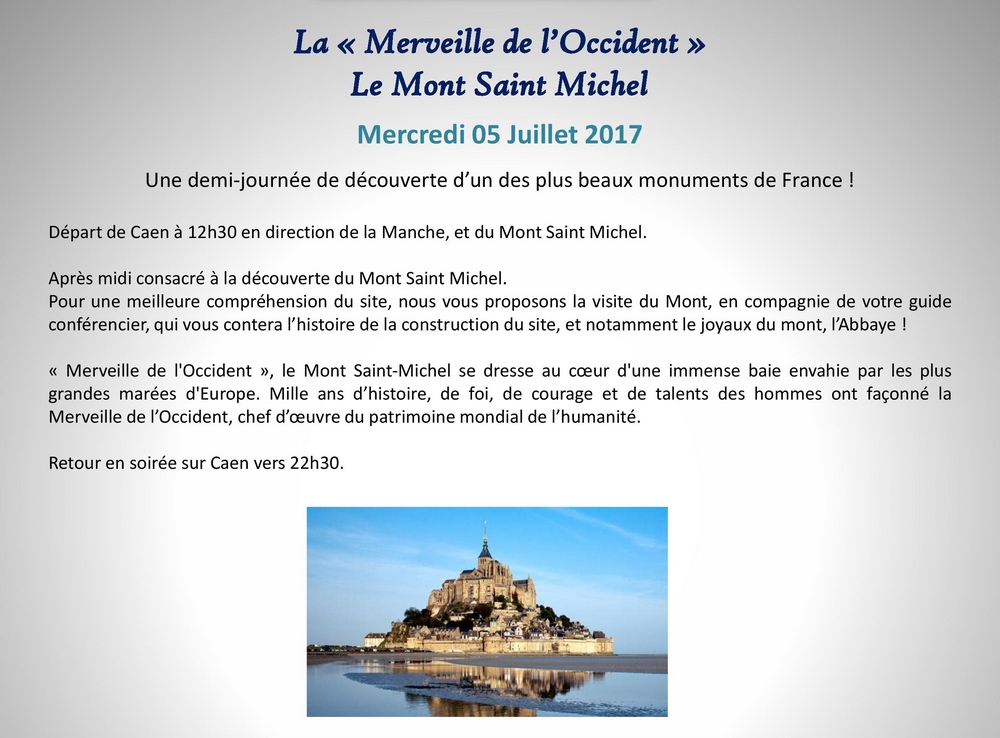 The "Wonder of the West"
Le Mont Saint-Michel
A half day discovery of one of the most beautiful monuments in France! Departure from Caen at 12:30 in the direction of the Channel, and the Mont Saint- Michel.
Afternoon devoted to the discovery of the Mont Saint-Michel. For a better understanding of the site, we propose you to the visit the Mount, in the company of your guide, who will tell you the history of the construction of the site, and in particular the jewels of the mountain, the Abbey!
"Wonder of the West", the Mont Saint-Michel stands in the heart of an wide bay invaded by the biggest tides in Europe. A thousand years of history, faith, courage and talent have shaped the Wonder of the West, a masterpiece of the world heritage of mankind.
Return in the evening to Caen around 22:30.